Jianxin Cao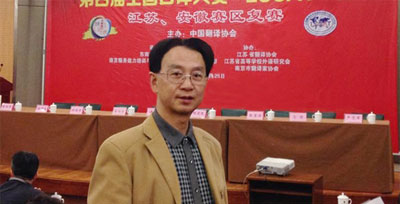 ▲Prof. Cao as a judge at the Jiangsu Province and Anhui Province division of the Fourth National Interpreting Competition.
Mr. Jianxin Cao is a former professor and a graduate student supervisor at Nanjing University. He is a practice-oriented interpreting professor and received his master's degree from the University of London. As a seasoned simultaneous interpreter, he has handled over a thousand consecutive and simultaneous interpreting tasks and worked as a judge at four provincial and national English interpreting contests.
He has authored 38 publications and his students include Hua Chunying, Deputy Director of the Foreign Ministry Information Department of China, Ma Ainong, translator of Harry Potter, Liu Xin, a hostess at the China Global Television Network and the winner of the first "21st Century" Cup National English Speaking Competition.