Mr. Qun Huang
BOARD DIRECTOR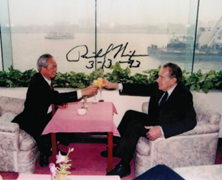 Mr. Huang has lunch with former US President Richard Nixon.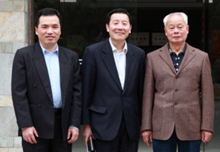 Mr. Huang meets with Fang Fanquan, Vice President of Guangdong University of Foreign Studies (GDUFS), and Ping Hong, Dean of GDUFS School of Interpreting and Translation Studies.
Mr. Huang served as Director of the Foreign Affairs Committee of the Standing Committee of Guangdong Provincial People's Congress, Director of the Foreign Affairs Office, People's Government of Guangdong Province, and Head of the Bureau II (Northeast Asian and Indochina Affairs) of International Department, Central Committee of CPC.
Mr. Huang has long been working as a Vietnamese translator and conducted studies on Vietnam, Laos and Cambodia.