Mr. Yimin Zou
VICE CHAIRMAN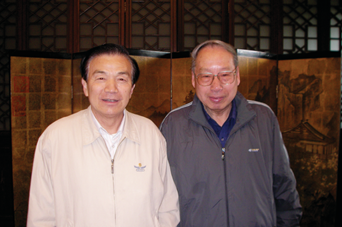 Mr. Zou meets with Yang Jiaqing,
then Executive Vice President of Tsinghua University, for cooperation talks.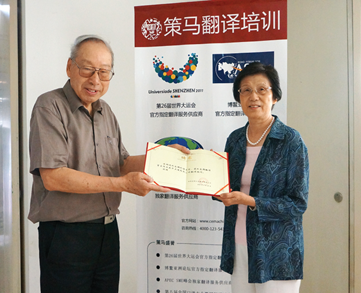 Mr. Zou presents the letter of appointment to Ms. Yanhua Shi, Executive Vice-Chairwoman of the Translators Association of China (TAC) and former Director-General of the Department of Translation and Interpretation at the Ministry of Foreign Affairs (MFA).
About Zou
1984-1990 Director of the Foreign Affairs Office and General Manager of the International Business Department, Head Office of the Agricultural Bank of China (a deputy-bureau-director-level title), advisor of foreign investment promotion at the People's Government of Ningbo Municipality, Director of the Asian and Pacific Regional Agriculture Credit Association, member of the Bankers Investment Committee of the Food and Agriculture Organization of the United Nations.
1981-1984 English Language Advisor at China Daily
1972- Member of the Steering Group of the MFA Department of International Affairs and Treaty and Law (a ministerial-level title)
1962-1981 Worked at the Department of International Affairs and the Department of European and American Affairs, MFA.