All of the members have worked extra hard to provide first-rate interpreting services during the challenging camp.
"I did my homework a month before the SAES, including research on Australian economic development, Sino-Australian ties, the Australia-Sino One Hundred Year Agricultural and Food Safety Partnership and the China-Australia Free Trade Agreement. Over 30 people from different fields addressed the summit, and I googled them and learned about their views on relevant issues and practiced interpreting while watching their taped interviews," said Ren Ruiliu, camp member and student in a winter interpreting course taught by Dr. Kevin Lin who has interpreted for Queen Elizabeth II.
The challenge didn't stop there. Camp members didn't get key materials until just a few hours before a meeting. They were also given a last-minute notice to interpret a long video, which included speakers who were not listed.
"I calmed myself down by remembering what Dr. Lin has always been saying: 'mind over body', which really helped us a lot in those two days. Guests who knew that we were interpreters gave us a thumbs-up. It made all the hard work worthwhile. This camp is very rewarding and has encouraged me to work harder to be an excellent interpreter," Ren said.
In addition to interpreting tasks, camp members got to relax during the trip. They started with a lunch at the popular Hurricane's Grill & Bar, and then boarded a luxury cruise where they drank champagne and ate fresh seafood with many entrepreneurs while enjoying the view of Sydney Opera House, Australian National Maritime Museum, Sydney Aquarium and the romantic Darling Harbor.






Camp members on a luxury cruise.

Attendees of the SAES.

On March 29, camp members went to the Hunter Valley, home to more than 120 wineries and Australia's oldest wine region. They drank wine at the Tempus Two Winery and left there a little tipsy for another winery, Hermitage Road Cellars, where they drank more wine and ate grilled delicacies, then watched a documentary of wine-making at the Wine Theatre. Later that day they went to the Central Coast and fed the pelicans there, losing themselves in the sunlight and sea breeze.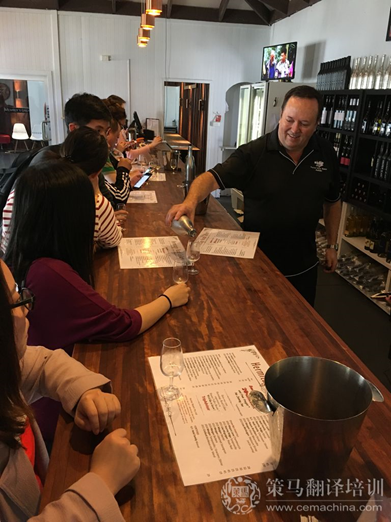 Camp members drink white wine at the Tempus Two winery.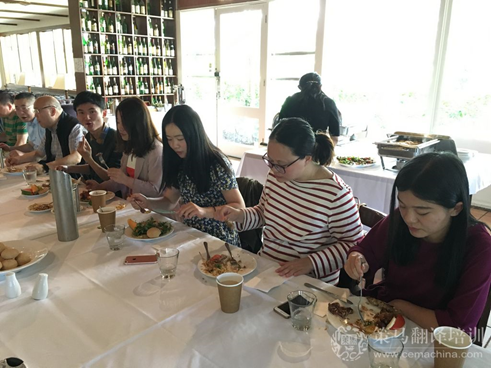 Camp members eat grilled delicacies.



Camp members drink wine with entrepreneurs.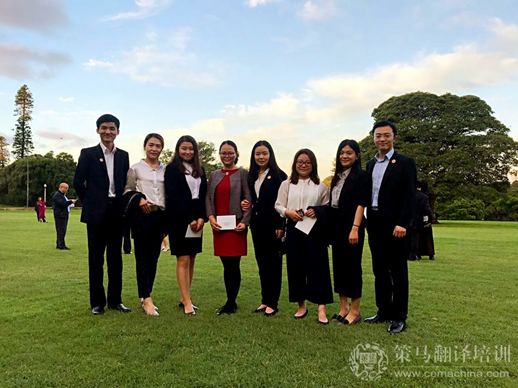 Grouphorse works toward better Sino-foreign relations and a more harmonious world.



"The interpreting camp is a great opportunity for college students like us who don't usually have the opportunity to interpret at such a high-level conference. Trainers in this camp have impressed me with their professionalism. They discussed interpreting problems with us anytime, anywhere and did a lot of research," said Zhu Chenye, member of the camp and Cema's AIIC Course.