Grouphorse launched a two-day training program on January 13 that is based on UN language experts' suggestions and the exam itself. It aims to help the trainees master translation skills and pass the United Nations language competitive examination (LCE) for Chinese translators that's set to start on April 25.
The LCEs are held once every two or three years in each official language to recruit language professionals (editors, interpreters, translators, verbatim reporters and copy preparers/proofreaders/production editors) to fill posts with UN's language services.
With many UN language professionals retiring in recent years, new blood is in demand, which is a huge opportunity for many professionals who want to work at the UN. The LCE consists of career-specific skills tests conducted remotely, an interview and additional skills tests. Candidates who pass the exam are placed on a corresponding recruitment roster and are then recruited when vacant posts need to be filled.
The UN has a professional Chinese translation and interpreting team that works in New York, Geneva, Vienna and Nairobi and the regional commissions.
"Our team helps Chinese representatives with their work at the UN, ensures smooth cooperation between different governments and help Chinese people know and support the UN," said Chen Zhongliang, chief of the Chinese Translation Service of the Documentation Division of the Department for General Assembly and Conference Management (DGACM), UN.
Experts at the Chinese Translation Service of the Documentation Division of the DGACM have been invited by Grouphorse to share their expertise at its branches in Beijing, Shanghai, Guangzhou, etc. Meanwhile, Grouphorse has taken on UN translation tasks many times and sent its trainees to study at UN agencies. Last year, Grouphorse's interpreting camp members were trained at the UN headquarters in New York, learned from experts at the Chinese Translation Service of the Documentation Division of the DGACM, and got to know more about the LCEs.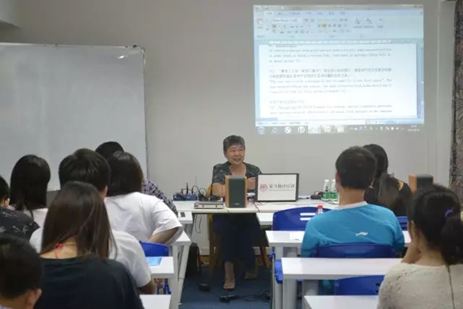 Xu Ya'nan, former chief of the Chinese Translation Service of the Documentation Division of the DGACM and a senior advisor at Grouphorse, gives a lecture at Grouphorse.
In 1979, commissioned by the Chinese government and the UN headquarters, Beijing Foreign Studies University (BFSU) started a UN language professional training program, which was headed by Professor Zhang Zailiang and aimed to nurture translation and simultaneous interpreting professionals.
The program went on for 13 seasons. Many trainees have worked at UN agencies. Some of them are senior diplomats, including Chinese Ambassador to the US Cui Tiankai, Ambassador Liu Jieyi, China's permanent representative to the UN in New York, Zhang Qiyue, Chinese consul general in New York, and He Yafei, deputy director of the Overseas Chinese Affairs Office of the State Council. Other trainees in this program have interpreted for senior Chinese officials.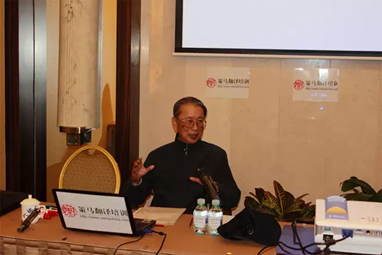 Professor Zhang Zailiang, director of the UN language professional training program, gives a lecture at Grouphorse.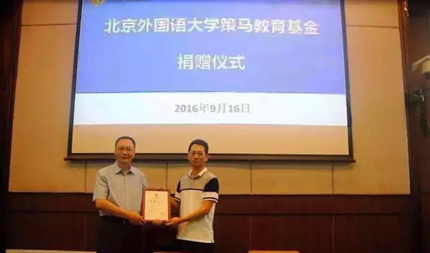 Li Changshuan (left), trainee of the UN language professional training program (season 13) and vice dean of the Graduate School of Translation and Interpretation of BFSU, signs a cooperation agreement with Grouphorse to establish the Grouphorse Education Fund in BFSU.
After the program ended in 1993, the UN started to organize the LCE to recruit Chinese language professionals. The LCE was held in February 2001, April 2006, November 2008, May 2010 and September 2013. Applicants can sign up for it from January 15 to February 14 on inspira.un.org. It is a great opportunity for all translation professionals who want to land a job at the UN.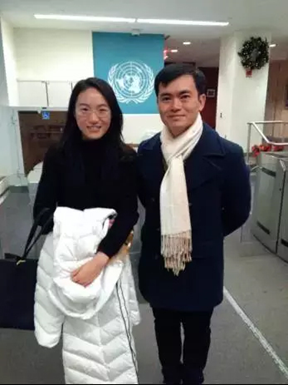 Alex (right), leader of an interpreting camp launched by Cema Translators Training Institute (Grouphorse's flagship brand) in the US, and Chen Qiong, a UN translator and former Cema trainer.
Starting January 15, information about the LCE will be posted on careers.un.org, languagecareers.un.org/zh,UN's Weibo,Wechat and Twitter accounts and websites of some Chinese authorities and news portals.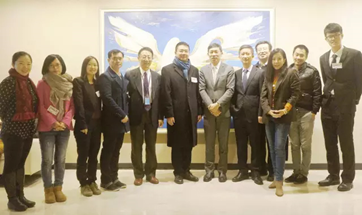 Assistant UN Secretary-General Xu Haoliang and members of Cema's interpreting camp at the UN headquarters.