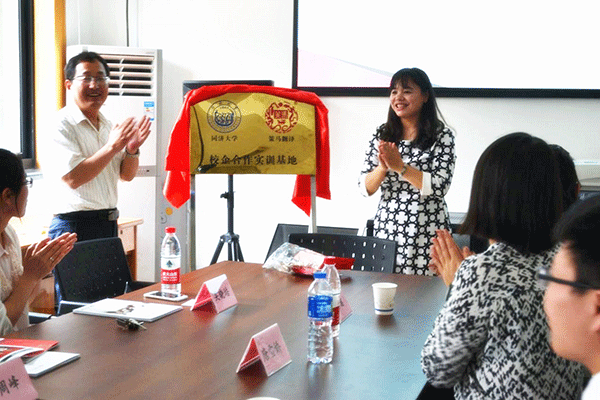 A translation and interpreting practice base was co-launched by Grouphorse's Shanghai branch and the School of Foreign Languages (SFL), Tongji University, on June 11.
Grouphorse will offer high-end interpreting and translation practice opportunities to students of Tongji University, in a bid to help nurture market-oriented interpreting and translation professionals and better develop practice bases it established in leading Chinese universities, including Beijing Foreign Studies University and Sun Yat-sen University.
"Developing the translation and interpreting practice base calls for more efforts, including adding more courses on practical translation and interpreting skills and cutting theory-centered courses," said Professor Ma Qiuwu, dean of SFL.
Established in 1907 by name of Faculty of German at Tongji Medical School, evolving into its present form in 1998, SFL is one of the university's earliest institutions and became one of the 15 schools with Master of Translation and Interpreting program in 2007. SFL now offers programs in German Language and Literatures, English Language and Literatures, Japanese Language and Literature, Linguistics and Applied Linguistics at undergraduate, graduate and doctoral levels.
"We look forward to long-term partnership with Grouphorse in order to create first-class practice platforms for SFL students," said Wei Yaozhang, chair of the Department of English at SFL.
As one of China's most prestigious international language service providers (LSPs), Grouphorse Group has been the official translation/interpretation service provider for a series of world-renowned events, including APEC summits, the Boao Forum for Asia, the XXVI Summer Universiade, and the Sino-European Entrepreneurs Summit, Sino-Australasian Entrepreneurs Summit, the Second Sino-American Venture Capital Summit. We are proud to have been the official sponsor for the XIX FIT World Congress, one of China's first practice bases for Master of Translation and Interpretation (MTI) candidates, an organizational council member of the Translators Association of China (TAC), and a corporate member of the American Translators Association (ATA).
As a company with a strong sense of social responsibility, Grouphorse is also the only language service partner among the supporting partners of One Foundation, one of China's most influential non-governmental charity organizations.
Grouphorse's flagship training brand, Cema Translators Training Institute (Cema), is widely recognized as the champion in the industry in terms of teaching quality, size, range of training levels and geographical coverage and was commended by senior Chinese officials such as Mr. Liu Huaqiu, former division director of the Office of Foreign Affairs Group of the CPC Central Committee.
In addition, Guo Jiading, former director-general of the Department of Translation and Interpretation and the Advanced Professional Titles Appraisal Committee at Ministry of Foreign Affairs (MFA) had coached interpreting learners at Grouphorse.
With its unique teaching method that combines comprehensive training and interactive learning, Cema has partnerships with several elite universities for mutual recognition of credits for translation/interpretation modules and is dedicated to cultivating elite translators/interpreters with global vision.